This step-by-step VPN for Firestick tutorial will walk you through the setup process with video and screenshot guides below.
The VPN application that I use in this tutorial, IPVanish VPN, is specifically designed and optimized for the Amazon Firestick 4K, 2nd Generation Fire TV Stick, Fire TV, and Fire TV Cubes.
IPVanish is recognized as the world's fastest VPN which is the most important feature since we are using it to stream large HD video files.
Why would you want to set up a VPN for your Amazon Firestick or Fire TV?
So that your Internet service provider (ISP), app/addon developers, hackers, site operators, and other organizations can't monitor and log what you are streaming or downloading.
A VPN will encrypt your connection to the Internet and create an anonymous connection through a masked IP address, which will hide your identity and activity.
A VPN may increase your streaming speeds because many Internet providers impose throttling methods for various streaming apps such as Cinema HD APK, CyberFlix TV, FreeFlix, etc.
The same is also true for Kodi users who prefer to stream with various Kodi Addons and Kodi Builds.
A VPN will eliminate ISP throttling and allow you to connect at speeds that will stop buffering on the Firestick/Fire TV.
Another reason to use a VPN on your Amazon Firestick or Fire TV is to have the option of accessing sites or streams that are only available to people in certain geographical regions.
This is often referred to as "unblocking websites" which is very popular among MMA and Sports fans who are often geo-restricted in certain locations.
A quality VPN like IPVanish will help evade censorship due to geographic locations and that's why it is claimed the best VPN for Streaming UFC and Watching the NBA Online.
The same can be said for unblocking YouTube or Netflix to access content available in other countries.
IPVanish VPN will give you the option of connecting through 1,500+ servers that are located in 75+ locations around the world.
Internet companies are cracking down on those who use various 3rd party apps and torrent sites to watch/download streams that are readily available on the Internet.
Many Internet companies also serve as cable television providers, which means less money for them.
Your ISP may threaten to sue you or shut down your Internet connection if they don't like what you are accessing through your Amazon Firestick, Fire TV, Fire TV Cube, or any Internet-connected device.
A VPN service will protect your identity and make it impossible for your ISP, government, hackers, app developers, or any other 3rd party from seeing what you are streaming or downloading.
WARNING! USE ONLY WITH IPVANISH VPN
Your streaming activity is actively tracked by your Internet Service Provider, app/addon devs, and government through your identifying IP address.
Your current identifying IP Address is 2.25.142.107
Stream and download anonymously by using IPVanish VPN.
IPVanish will encrypt your connection to the Internet and mask your IP address so you will remain 100% anonymous.
SAVE UP TO $52 WITH THIS TIME-SENSITIVE DEAL
IPVanish backs their service with a 30-day money back guarantee.
IPVanish allows you to use your account on unlimited Internet-connected devices
What Is Best VPN For Firestick & Fire TV
I have used over a dozen VPN services during the past seven years and I finally came across one that works very well with all models of the Fire TV.
One of the most important features to look at when comparing VPN services is download/streaming speed.
No matter which VPN service that you choose, you will notice a drop in your download speed due to the fact that your traffic is routed through a separate VPN server and your connections are encrypted.
IPVanish provides the best download speeds when compared to their competitors and they do not keep any traffic logs of what you stream/download or access on the Internet.
IPVanish VPN provides an optimized application for the Firestick, Fire TV, Fire TV Cube, and Fire TV Television that works excellent with the remote.
The user interface makes it simple to use a VPN on your Fire TV device. Most VPN services do not provide a Fire TV/Fire TV Stick application which makes IPVanish the preferred choice due to its ease of use.
IPVanish does not keep track of any traffic logs so if they were ever requested to provide your streaming history, it doesn't exist.
This is also one of many reasons why IPVanish is regarded as the Best VPN for Streaming among the growing cord-cutting community.
Not only do I use a VPN on my connected devices in my home, but I also use it when I am traveling. You should NEVER connect to a public WiFi hot-spot without protection through a VPN service.
IPVanish will allow you to use their VPN service on unlimited devices at the same time with one account. This is great for those of us who use a VPN service on our computer, phone, and Fire TV or Stick.
IPVanish also provides applications that can be used on Windows, Mac, Linux, Android, and iOS. The mobile applications for both Android and iOS are outstanding.
Due to their large ecosystem of supported operating systems, you can use your account on your different devices.
IPVanish supports a few VPN protocols on Fire TV devices including OpenVPN (TCP) and OpenVPN (UDP). We suggest using the OpenVPN (UDP) protocol for faster speeds.
The OpenVPN protocol performs best on the Firestick/Fire TV. This is the default option and allows for an easier installation setup.
For more detailed information on VPNs, we highly suggest viewing our in-depth VPN Guide below.
What is a VPN? Your Complete VPN Guide
If you ever travel and connect to public WiFi hot-spots, you should ALWAYS connect to the access point through a VPN service. You can use your same IPVanish account on your other devices which is a great benefit.
You will find both a video tutorial and screenshot guide below on how to install a VPN on the FireStick or Fire TV.
The video covers installation instructions along with important settings that may be customized within the application.
Attention Streaming Users:
Read before you continue
Kodi & Apks offer unlimited streaming content, but could also get you into legal trouble if caught streaming free Movies / TV shows / Sports. Kodi, Apks users are strongly advised to always connect a VPN while streaming online. A good VPN hides your identity, bypasses government surveillance, geo-blocked content, and ISP throttling (which also helps in buffer-free streaming).
I use IPVanishVPN which is the fastest and most secure VPN. It is very easy to install on any device including Amazon FireStick. You Save UP TO $52 OFF on its annual plans. Also, it comes with a 30-day money-back guarantee. If you are not satisfied, you can always ask for a refund.


Install VPN for Firestick/Fire TV Screenshot Guide
Amazon App Store Instructions – New Fire TV Interface
This first set of instructions are for those using the new Fire TV interface.
This includes the Fire TV Stick Lite, 3rd Gen Firestick, or 2nd gen Fire TV Cube.
If using the Amazon Firestick 4K, Fire TV Televisions, 1st gen Fire TV Cube, and older models of the Amazon Firestick, refer to the instructions for the old interface that follows.
NOTE: Not all devices will have this interface as it is slowly rolling out to Firesticks and Fire TVs.
Step 1 – Register for an account at IPVanish with a discount by clicking HERE.
Step 2 – From the home screen hover over Find.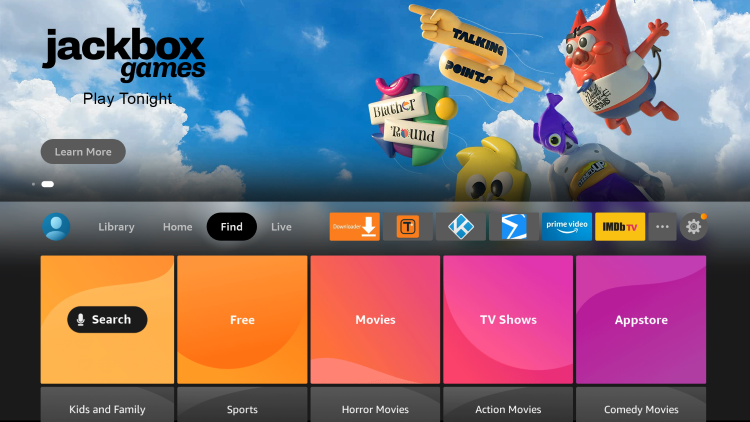 Step 3 – Scroll down and click Search.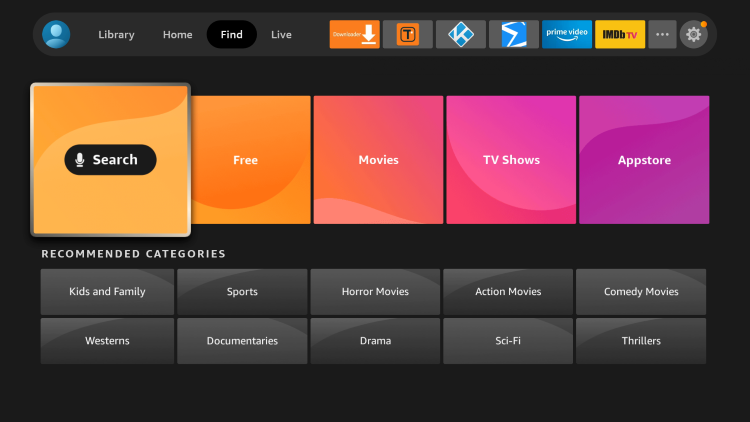 Step 4 – Type in "Ipvanish" and click the first option.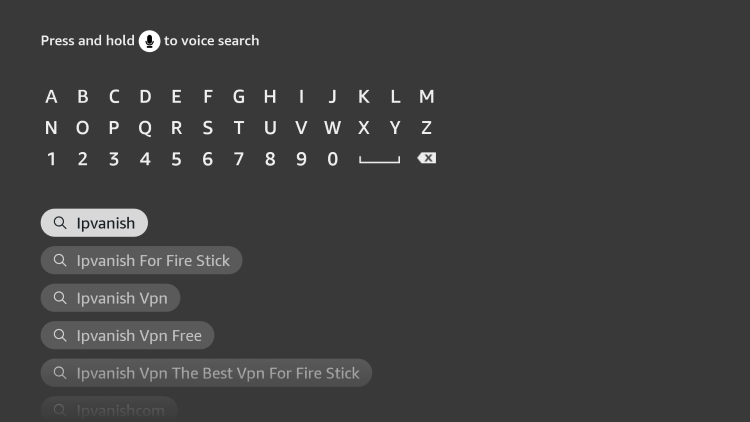 Step 5 – Click the IPVanish VPN app.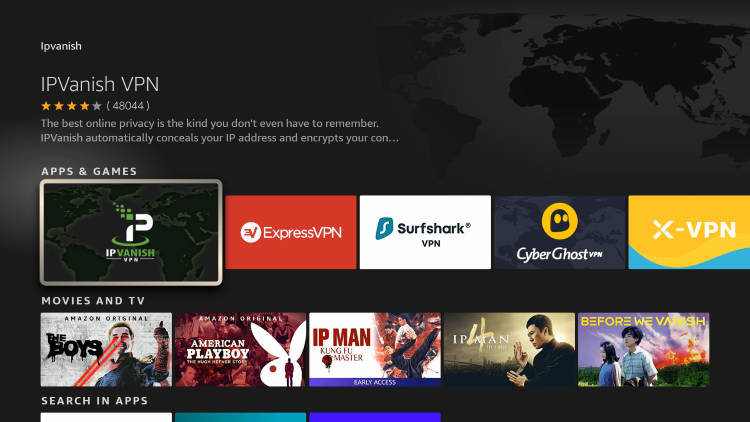 Step 6 – Click Download.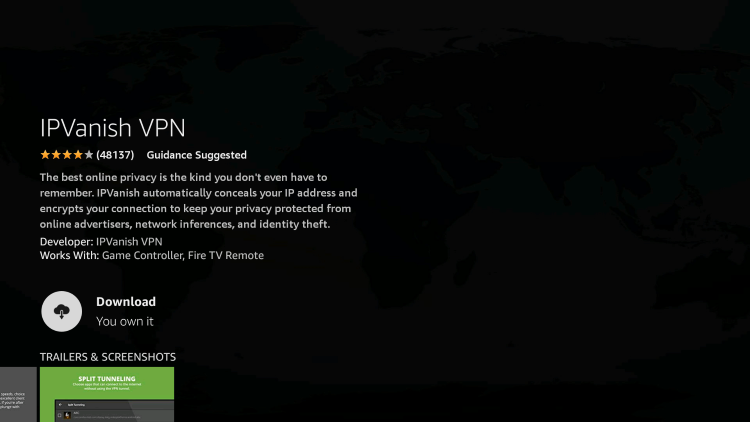 Step 7 – Once the IPVanish app installs, click Open.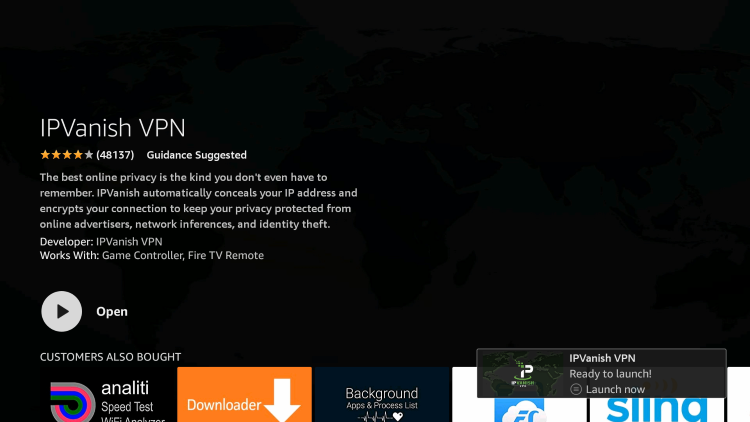 Step 8 – Enter your IPVanish account information and click Log In.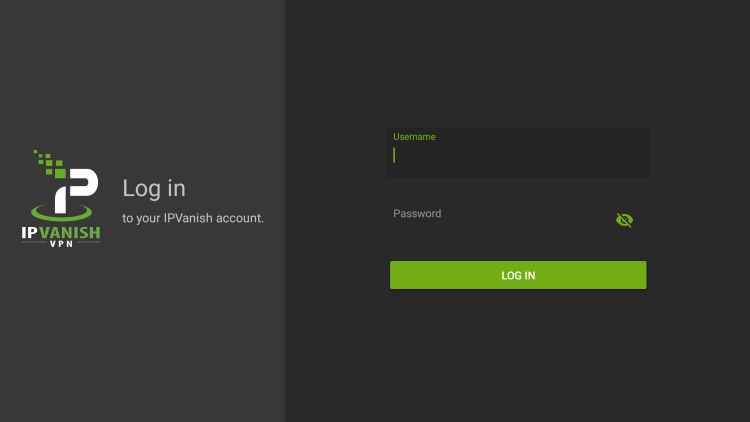 Step 9 – Click Connect.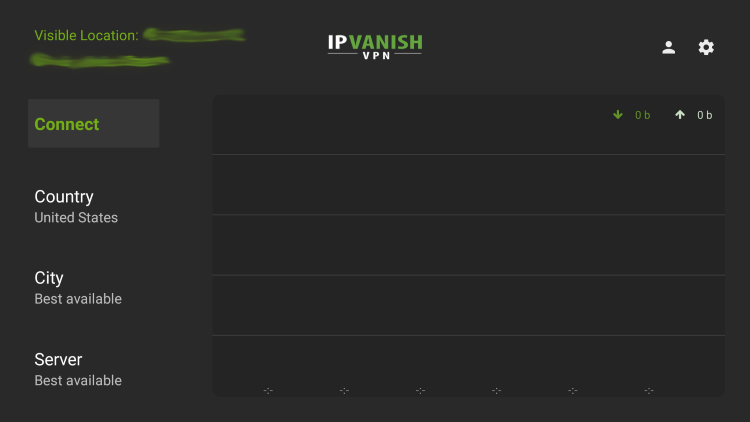 Step 10 – Click OK.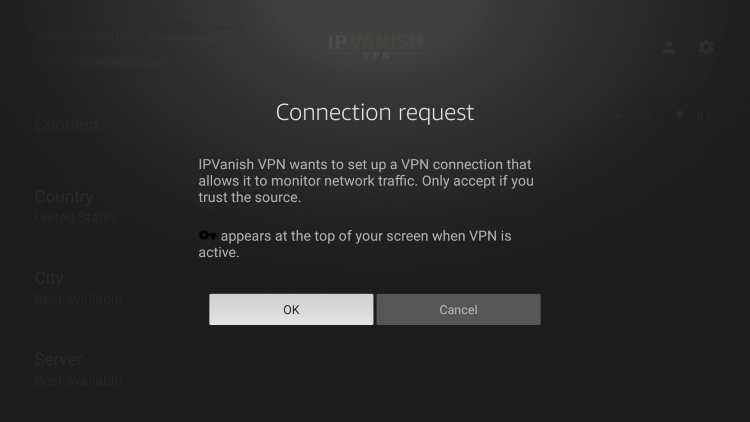 Step 11 – That's it! You have installed IPVanish VPN on your Firestick/Fire TV.