This Trakt Resource Guide will tell you everything you need to know about Trakt TV and how to activate on Kodi and Streaming Apps.
Trakt.tv
is a media tracking service that helps users sync their TV Shows and movies across numerous platforms and devices.
By integrating Trakt into your favorite streaming apps, managing your content will be a breeze!
WARNING! USE ONLY WITH IPVANISH VPN
Your streaming activity is actively tracked by your Internet Service Provider, app/addon devs, and government through your identifying IP address.
Stream and download anonymously by using IPVanish VPN.
IPVanish will encrypt your connection to the Internet and mask your IP address so you will remain 100% anonymous.
SAVE UP TO 65% OFF WITH THIS TIME-SENSITIVE DEAL
IPVanish backs their service with a 30-day money back guarantee.
IPVanish allows you to use your account on unlimited Internet-connected devices.
What is Trakt?
Trakt is a media software that works in conjunction with tons of apps and devices to store and sync your streaming content.
Users can integrate their Trakt account within various applications to automatically track everything they are viewing.
One of the best features Trakt provides is its ability to function across multiple platforms, which include:
Netflix
Plex
Cinema APK
Stremio and more!
If you use more than one of the above services to stream content, Trakt will automatically sync what you're watching so you don't have to repeat the process.
This is called scrobbling and is a great way to make sure you stay up-to-date on all of your favorite shows and movies.
Because they are two of the most popular streaming sources, this tutorial will show you how to set up Trakt on Kodi and popular Streaming Apps.
However, it can also be set up on any above-aforementioned applications and more.
Before installing Trakt into these streaming apps, we must register for a user account. Trakt is a free service and you can sign up by CLICKING HERE or the link below:
Upon signing up, you will be provided with options to personalize your account.
By selecting your favorite genres, TV Shows, and more, Trakt is able to create an awesome platform that is specifically catered to your viewing tendencies.
You may also follow the step-by-step guide below:
How To Register for a Trakt Account
Step 1
Go to https://trakt.tv.
Step 2
Click the JOIN TRAKT FOR FREE button.
Step 3
Type in your email, username and password in each field.
Step 4
Click JOIN TRAKT.
Step 5
After reviewing the terms and privacy, tick the box beside the I agree to the Terms of Use and Privacy Policy.
Step 6
Personalize your profile by typing in your preferred display name and location. Select your time display, gender and birthdate.
Step 7
Click NEXT STEP.
Step 8
Select your favorite genres then click NEXT STEP.
Step 9
Add TV and movies to your profile.
You can mark them by clicking the following buttons:
Mark items as watched


Add to your list of all the TV shows and movies you've watched.

Collect items you own digitally or on disc


Organize your TV shows and movies in your collection.

Watchlist items you want to watch


Save items that you want to watch at a later time. Once it is watched, the item is removed automatically from the list.

Find where to watch online


Search titles from over 300 online streaming services.

Rate items on a scale of 1 to 10


Add your personal rating to TV shows or movies that you have watched.
Step 10
Click NEXT STEP.
Step 11
Share your activities automatically by clicking any of social media buttons presented then click NEXT STEP.
Step 12
You may also opt to receive push notifications when users follow or mention you or comment on your Trakt account.
Step 13
Click CONTINUE TO DASHBOARD.
Step 14
Your account is now ready to use.
With registration complete, we can now incorporate Trakt to our favorite streaming services. Use the step by step guides below to set up Trakt on Kodi & popular streaming apps.
Trakt TV – Activate on Kodi
Note: Not all Kodi add-ons have the ability to use Trakt technology. I suggest checking add-ons prior to installation to see if they are compatible with Trakt.
For a complete list of the Best Kodi add-ons, follow the link provided below:
Step 1
Open Kodi and select your favorite add-on (In the following instance I have chosen Exodus Redux, however, the process will be similar for nearly all add-ons capable of using Trakt).
Step 2
From the main menu of the add-on, scroll down, and select Tools.
Step 3
Click SETTINGS: Accounts.
Step 4
Scroll down to Trakt and click Authorization….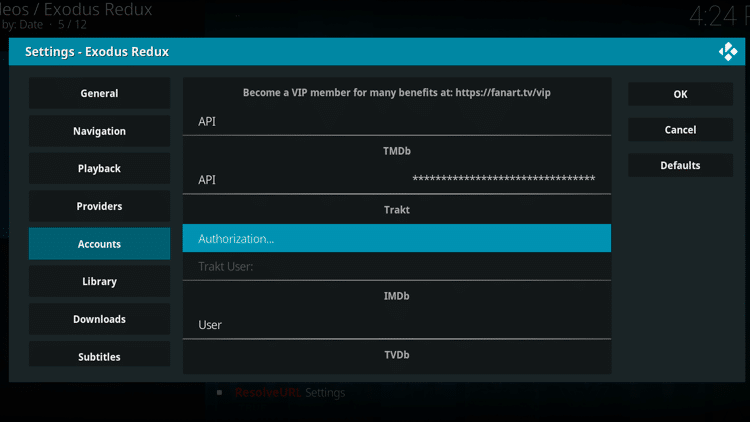 Step 5
Kodi will then provide you with a Trakt authorization code. Copy or write this code down.
Step 6
Go to trakt.tv/activate and enter in the code provided in the previous step and click the CONTINUE button.
Step 7
When asked if you would like to allow the add-on to use your account, click YES.
Step 8
A message will appear that confirms your device is now connected.
You can also opt to follow this alternative process for all your add-ons and builds within Kodi.
NOTE: If you are looking for a simple way to install the best add-ons and repositories quickly and efficiently, I suggest using a Kodi Build. Click the link below for a list of the Best Kodi Builds.