APOLLO GROUP TV REVIEW | PREMIUM IPTV SERVICE | 10 DAY FREE TRIAL | 1000+ CHANNELS | 99% WORKING EPG
In this guide, I'll show you how to set up and use Apollo Group TV IPTV on Amazon Fire TV devices, including FireStick Lite, FireStick 4K, Fire TV Cube, and Fire TV devices from different manufacturers. I will also discuss the pricing, the legal status of the service, and if it's worth investing in or not.
APOLLO GROUP TV Video Review
apollo group tvIt's 2021 and you don't need to pay hundreds of dollars across various OTT apps to enjoy a seamless cord-cutting experience on Amazon FireStick. The arrival of IPTV services has created a storm in the streaming space. Using a solid IPTV service such as Apollo Group TV, you can easily watch thousands of TV shows, movies, and live TV channels on FireStick.
The web is filled with many IPTV services. Among them, choosing the perfect option for your needs and preferences can be a headscratcher. Apollo IPTV comfortably earns our recommendation for various reasons.
For starters, the IPTV provider offers more than 1,000 live TV channels from various countries around the world. They are neatly divided into various categories as well. You won't have a hard time finding relevant TV channels from the list.
Cross-platform availability isn't an issue either. You can use Apollo IPTV on FireStick, Android, iOS, Windows, Mac, Android TV, NVIDIA Shield, and more.
Before I go ahead and review Apollo IPTV for FireStick, let's understand more about Apollo Group TV.
What Is Apollo Group TV?
Apollo Group TV is an IPTV provider that offers a huge number of TV channels, movies, and TV shows for a small monthly price. You can use Apollo's native app to view the content, or you can rely on dedicated IPTV players to get things done.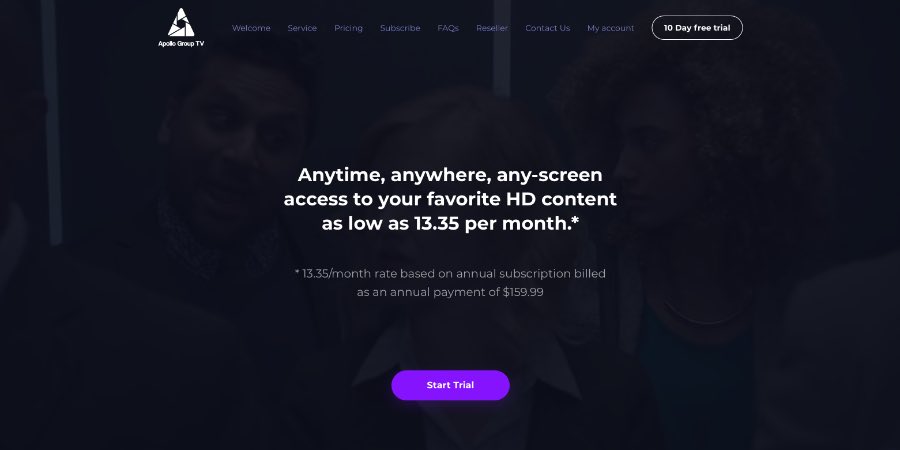 You can go to the Apollo Group TV website and sign up for the service from the pricing page. After a short time, you will get all the relevant details, such as a username, password, M3U link (I will explain that later), and EPG link.
As I mentioned, the good news is that Apollo IPTV isn't limited to the native app. You can integrate the service with IPTV players like Flix IPTV, IPTV Smarters, or TiviMate IPTV.
In conclusion, you won't have a hard time playing Apollo IPTV on any device out there.
Is Apollo IPTV Legal?
That's a tricky question to answer. Allow me to explain in detail. First of all, Apollo Group TV isn't available in the Amazon App Store or Google Play Store. This should be an alarming reason for you to look for other options.
Apollo IPTV carries more than 1,000 live TV channels from several countries around the world. FireStickTricks.com can't verify every piece of content in each region out there. Some of the content that you try to consume on Apollo IPTV could be officially licensed in your region by a media group. When you try to watch the licensed content through Apollo IPTV, it might put you in legal trouble.
Being a responsible media publisher, FireStickTricks.com doesn't encourage breaking copyright laws. But what if you accidentally consume unlicensed content on FireStick via Apollo IPTV? How do you keep yourself safe then? Use a VPN app on FireStick while you're on third-party apps or services.
Apollo IPTV Plans and Pricing
Apollo IPTV offers various IPTV packages to start your journey. The company used to offer a 10-day free trial to test out the service. They have since closed the free trial. You need to pay for the monthly plan to get started.
The good news is, even the basic plan offers five device connections, meaning you can use Apollo IPTV on five devices simultaneously. Unlike Apollo IPTV, other IPTV providers charge extra for more connections.
Let's discuss all the Apollo IPTV plans.
$24.99 – For one month. Five device connections, all categories, and up to 5000 commercial-free movies and TV shows.
$51.99 – For three months. Five device connections, all categories, and up to 5000 commercial-free movies and TV shows.
$89.99 – For six months. Five device connections, all categories, and up to 5000 commercial-free movies and TV shows.
$159.99 – For one year. Five device connections, all categories, and up to 5000 commercial-free movies and TV shows.
In terms of payments, Apollo IPTV supports all the major payment methods such as Visa, Mastercard, and PayPal.
I recommend going with a monthly plan to test out the IPTV provider. After that, you can move to a three-month or six-month plan. I don't recommend going with a yearly plan, as Apollo IPTV has a history of shutting down unexpectedly.
The website isn't that reliable either. The payment system went down thrice in the last couple of months.
Apollo Group TV IPTV Overview
Apollo IPTV is more than just TV channels. It comes with many extras to make it worth the price tag it carries. Let's check all the major Apollo IPTV features with the basic plan.
Over 1,000 live TV feeds in various categories
Electronic program guide (EPG) support to view next/previous programs
M3U URL support
The ability to record videos on the go
Catch up option
Plays perfectly in most IPTV players
Compatible with IPVanishVPN
Up to five connections with the basic plan
Entertainment channels
International channels
Support for external video players
News channels
Cross-platform availability
Favorites manager
VOD (video-on-demand) support for movies and TV shows
Visa and Mastercard as payment options