This Vidgo Review will tell you everything you need to know about this live streaming service and how to install on any device.
We also include Vidgo Channels, Pricing, Subscription options, and more.
Vidgo is an IPTV Service that features live channels for streaming.
Vidgo provides a discounted rate for new users and subscribers offering the first month of service for only $10/month.
Users will find channel options for Sports, News, Entertainment, Kids, and more.
In this Vidgo Review, we detail all the channel options Vidgo has available as well as various features and details the service offers.
We also show how to install the Vidgo App on Firestick/Fire TV and Roku.
For those unfamiliar with Live TV services or IPTV, these streaming services offer live TV channels at a set time delivered over the internet.
To stream live TV, you need a stable internet connection, a streaming device such as an Amazon
Firestick
or Roku, and a subscription to a streaming service such as Vidgo.
Vidgo Review
Vidgo is a newer Live Streaming Service that started in December 2019.
Vidgo Video Review
It serves up live channels via the Vidgo App that is available for installation on tons of devices.
Supported devices include:
iOS
Android
Roku
Firestick/Fire TV
Apple TV
Android
Web Browser
Chromecast (Including Chromecast with Google TV)
After installing the app on your preferred device you can sign in with your Vidgo Account and access all 95+ channels.
Users will have the choice between the English Version or the Spanish version of Vidgo that provides varying channel options.
You can stream all channel options on up to 3 devices simultaneously so you never miss your favorite show or event.
The Vidgo app is simple and easy to use, however, it is missing some important features.
This includes the ability to record content or DVR shows and programs.
Most Legal IPTV Services provide this feature so if it is something that you must have, we suggest an alternative such as Fubo.
However, you can expect to pay more for these other live streaming options that have extensive features not available with Vidgo.
Vidgo Channels
Currently, there are over 95 channels available with a Vidgo English subscription.
Subscribers will have access to Sports, News, Family, Entertainment, and even local channel options.
Most of these sports channels carry College Football, basketball, baseball, MMA, hockey, and more!
This makes the service a fabulous choice for Streaming Local Channels without Cable.
Some of the most popular channels available include:
ABC
A&E
BTN
CMT
Comedy Central
Discovery
Disney
ESPN
ESPN 2
FOX
Fox News
FS1
HGTV
History Channel
Lifetime
MTV
National Geographic
NFL Network
Pac 12
TLC
and more
The Vidgo Spanish Subscription does not have as many channels as the English option.
If you prefer the Spanish subscription, you will have access to the following Vidgo channels:
Atreseries
Antena 3
A3Cine
bein Sports
Cine Latino
Cine Sony
Discovery Espanol
ESPN Deportes
FOX Deportes
History en Espanol
Hola! TV
Nat Geo Mundo
Television Dominicana
wapa America
and more
Vidgo Review – Pricing
As stated above, there are two different subscription options for Vidgo: English and Spanish.
Both have varying channel options and prices.
However, you can purchase the first month of either subscription for only $10.
After the first month, prices go up substantially for both choices.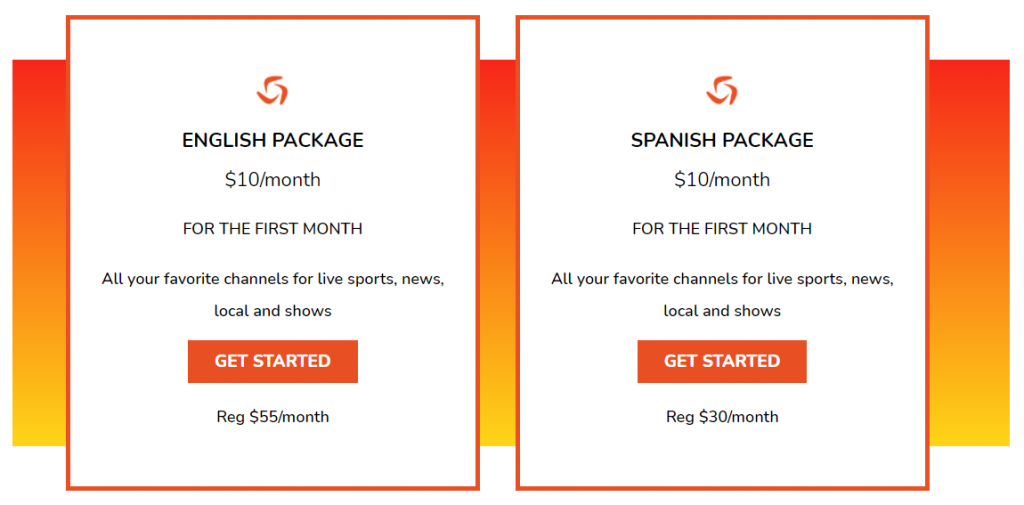 If you choose the English Package, the price after the first month raises to $55/month or $660/year.
However, because the Spanish Package does not have as many channel options, it is available for only $30/month or $360/year.
As you can see, the Spanish Vidgo subscription is nearly half the cost of the English option but has minimal channel choices.
Users can cancel their Vidgo subscription if they are unhappy with the service for any reason as no contracts are required.
While the introductory price is a great deal for live streaming, the monthly rate of $55/month is comparable to various other services.
How to Install Vidgo on Firestick/Fire TV
1. From the home screen of your device, hover over Find and select Search.
2. Search for Vidgo.
3. Select the Vidgo app.
4. Click Get.
5. Wait for the app to install. Click Open.
6. Sign in using your account credentials.
That's it! Installation is now complete.
How to Install Vidgo on Roku
The installation process for Vidgo on Roku is simple and easy.
Use the guide below to install the app on your Roku device.
1. From the main menu, click the Search icon.
2. Type Vidgo.
3. Select the app.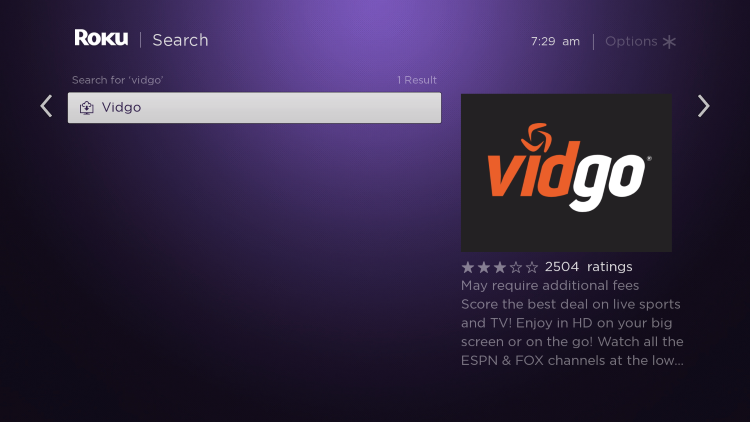 4. Click Add channel.
5. Wait for app to install.
6. Click OK.
7. Choose Go to channel.
8. You can now sign in for use.
Enjoy!
Vidgo Review – Features & Details
There are tons of various features and options available for use with a Vidgo subscription.
One of the most useful features provided is the ability to use TV Everywhere with the service.
TV Everywhere is a useful integration tool for streamers to access their content on various devices and apps.
You can use your Vidgo login credentials on various Streaming Apps to view shows, live channels, and more.
The user interface available within the application is simple and easy to use.
You are provided with a TV Guide that lists channels and shows up to two hours in advance.
Users can even stream live channels on a PC or Mac within their preferred web browser via the Vidgo Web Player.
This will also work for other various devices such as the Amazon Firestick.
Silk Browser on Firestick
Chrome on Firestick
Overall, this service is a solid choice for live streaming with an abundant amount of channels at a reasonable price.
The introductory price of $10 for the first month is a fabulous way to test the service without breaking the bank.
If you are looking to save money and stream content, check out our list of
Free IPTV Services
.